Holiday Programme
Date: Tuesday 23rd – Friday 26th January
Time: 9.00am (drop off anytime from 8.30am) till 12.30pm
Price: $24.00 per day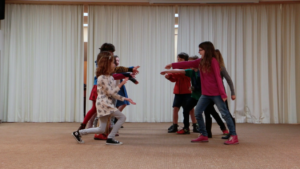 Where: Karori Bridge Club, 274 Karori Road, Karori, Wellington (Next to BP). There is an external staircase on the left-hand side of the building which is how you enter our performance space.
Age: These classes are suitable for children 5 years – 13 years
If you're interested in these holiday classes please feel free to Contact Us or Register Your Child now. I look forward to seeing you there.
Each day students break into groups based on age. Juniors are 5 – 8 years and Seniors are 8 years and above. Children aged 8 – 9 years can choose which group they would like to join.
Our Schedule
Tuesday: Dr Seuss
Wednesday: Mystery Mayhem
Thursday: Scripted Plays
Friday: Take a Stand